THE POWERFUL AIRSELFIE
APP
LETS YOU CHOOSE HOW YOU WANT TO FLY! The new AirSelfie App is an intuitive, user-friendly powerhouse that gives you two additional ways to fly your AIR NEO: Manual Mode where you pilot your AIR NEO with full control or App AutoFly which, like the Analog AutoFly, the App launches your AIR NEO on a preset flight path to take photos or video and then returns it to land in your hand.
The AirSelfie App also keeps your Gallery of photos or video neatly organized and lets you share them instantly on your favorite social media platforms.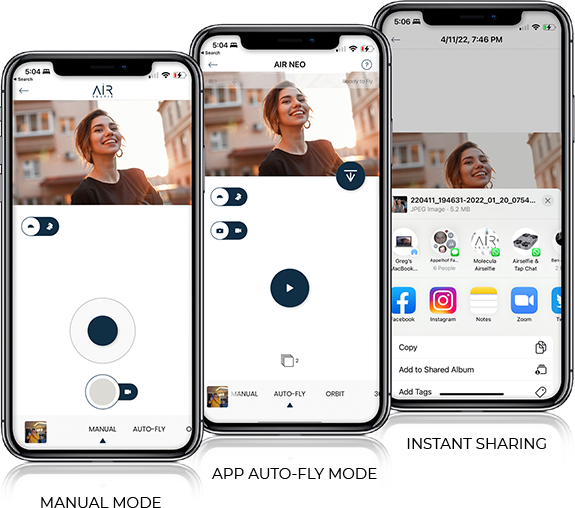 GET YOUR GAME ON!
The AirSelfie App has 2 easy to master Manual Modes:
Vertical - Use your thumb to make familiar motions with the joystick in the center of the App screen to pilot your AIR NEO.
Horizontal - Flip your phone on its side and control your AIR NEO with 2 toggles similar to a video game paddle.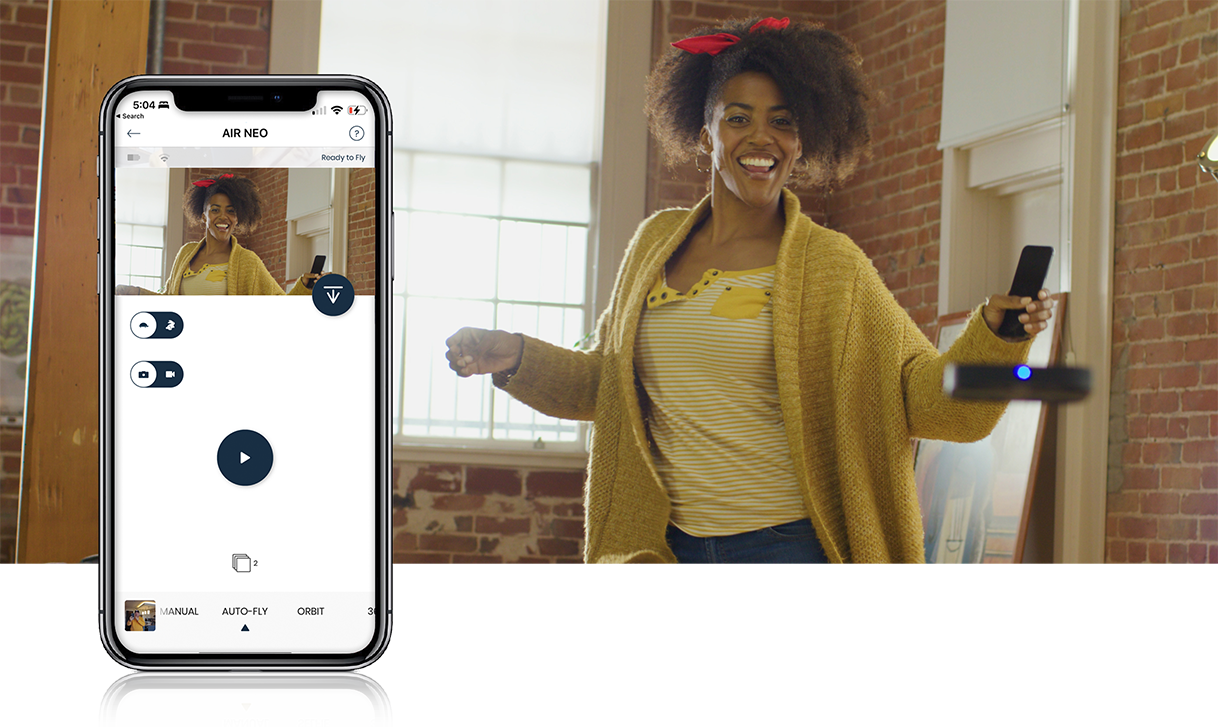 ONE TOUCH AND WATCH IT FLY!
AIR NEO automatically captures all of your life adventures in App AutoFly Mode. Just select photos or video and press the launch button and AIR NEO does the rest:
Launches and flies a few feet away
Finds you using face tracking technology
Takes multiple photos or continuous video
Flies back to you and lands in your hand
The AirSelfie App also has 2 other pre-set flight paths you can choose:
Orbit Mode - Your AIR NEO automatically launches and circles you taking photos or video from all angles.
360° Mode - AIR NEO takes off out of your hand and flies a few feet away and rotates taking photos or video of your surroundings.
Share in an instant
Once your image is just right you can instantly and seamlessly post it on your favorite social media platform right from the app. iOS users can also live stream right to their Facebook page or YouTube channel!